Our Mask Straps
A practical, hygienic and effective solution!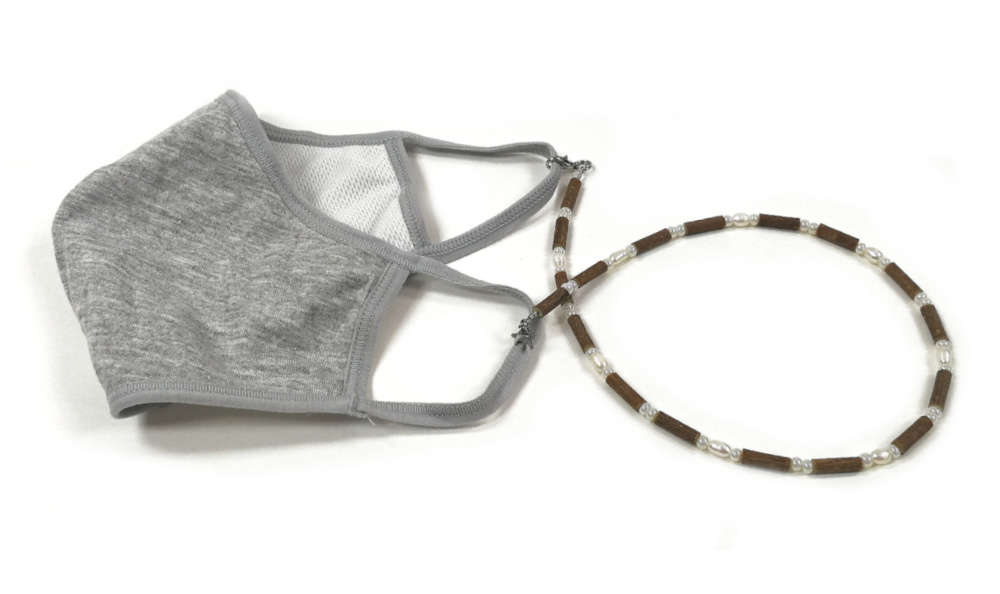 WHY WEAR THEM
Wearing a mask or a face covering is now required almost everywhere! But how should you handle it between uses, if you don't have to change it yet? How can you make sure to always have one on hand without having to keep it in your pocket or purse, where it could be easily contaminated? Our new straps allow you to keep the mask retained around your neck and to avoid touching it when you need to put it on or take it off. Moreover, you get to benefit from the antioxidant and anti-inflammatory properties of hazel wood, and customize your mask to your own taste!
HOW IT WORKS
Just add one "Extra for mask straps" unit for each necklace in your cart that you want converted as a mask chain.

On 14" to 24" necklaces only. Mask not included. If you order more necklaces than straps, please leave us a note at cart step (before checking out) to indicate which necklaces you want us to convert.




A lobster clasp is pub on both ends of a hazelwood necklace of your choice.

When you don't use the necklace as a mask chain, you can wear it as a regular necklace by hooking both clasps together.
GOOD TO KNOW
Works best with a mask that has ear loops.
Our lobster clasps will fit cords with a diameter of 5 mm at most.
Just like non-medical masks, Pure Hazelwood mask straps will not prevent the spread ov Covid-19 or any other virus, bacteria or any other disease. You must change your mask when it becomes wet or soiled, and follow the government's recommendations (wash hands frequently, maintain social distancing, etc.).